Today's poem is an imaginary exploration of that phenomenon by which we measure and organize our lives and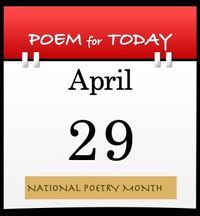 aptly begins, "Once upon a time..."
It astounds me how many euphemisms and metaphorical references there are involving the word "time" in our daily speech. Gregory Titleman's America's Popular Proverbs and Sayings lists at least 40 sayings referencing "time" and I'm sure I could find many more. That is, if I were to take the time. 
Just for fun, try to notice every Time you use that word today. But don't spend too much Time doing it, because, as we all know, Time is money!
Time
Once upon a time,
when there was still plenty of the stuff,
before we strapped it to our wrists,

before it told us when to sleep
and when to wake,
before all of that,
before it measured our lives
with candles on cakes,
before it could be wasted,
before if could be suspended
or given to a friend,
before it became something we could make,
before it was used to heal all wounds,
before you could have a good one
or a bad one,
before it invented the future and the past,
before it was fast, or slow, early or late,
yeah, before all of that:
We just hung out on Chauncey's front porch
on lazy, yellow afternoons,
watching the old men play checkers,
hiked to the top of Lookout Mountain,
looked out over the simple homes
and revel in the lack of progress.
No one knows exactly what happened.
Some say time got bored,
or was captured by our imagination
and put to work
so it could earn its keep
like everyone else.
No one ever thought
it would learn to fly,
by then, there was no stopping it.
Phillip (rags) Rosenberg
*Note: If you don't want to get these emails in April for National Poetry Month, but don't want to unsubscribe, just reply to this email with no text and I'll remove you.        
Click below to hear me read "Time."        
Happy National Poetry Month!       
hugs from Joshua Tree,       
rags